A veil is a gorgeous addition to any bridal outfit. The lengths, widths, styles and embellishments available are endless which leave many brides spoiled for choice.
Our guide below shall talk you through different lengths and embellishment styles.
What Length Should You Choose?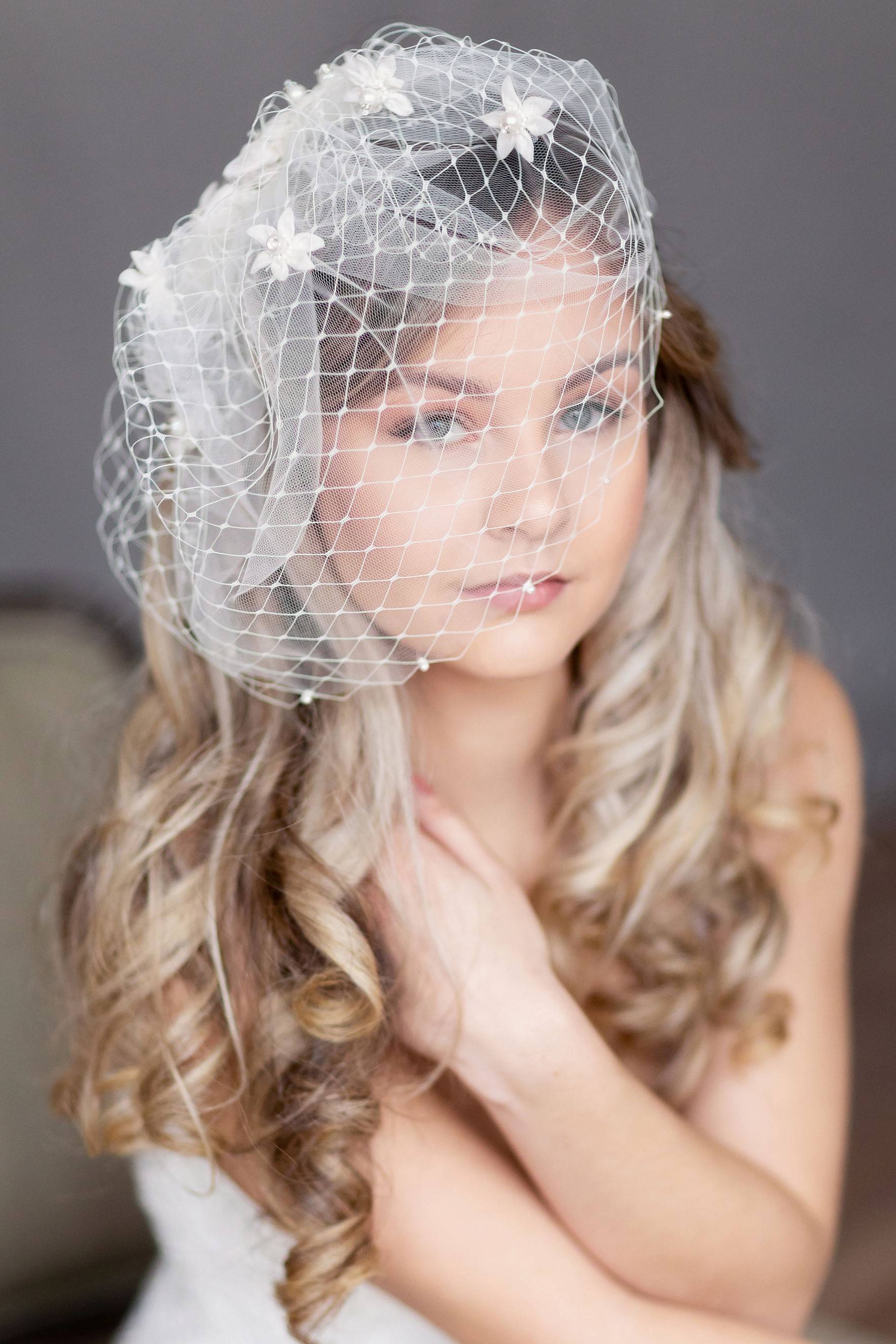 A Birdcage Veil sits at the top of the head and covers the face.
Originally used in millinery, bridal birdcage veils came into fashion during the 40's and 50's. They are a quirky and chic addition to any bridal outfit, particularly suiting tea length gowns or outdoor weddings.
Lauren is seen wearing Birdie above.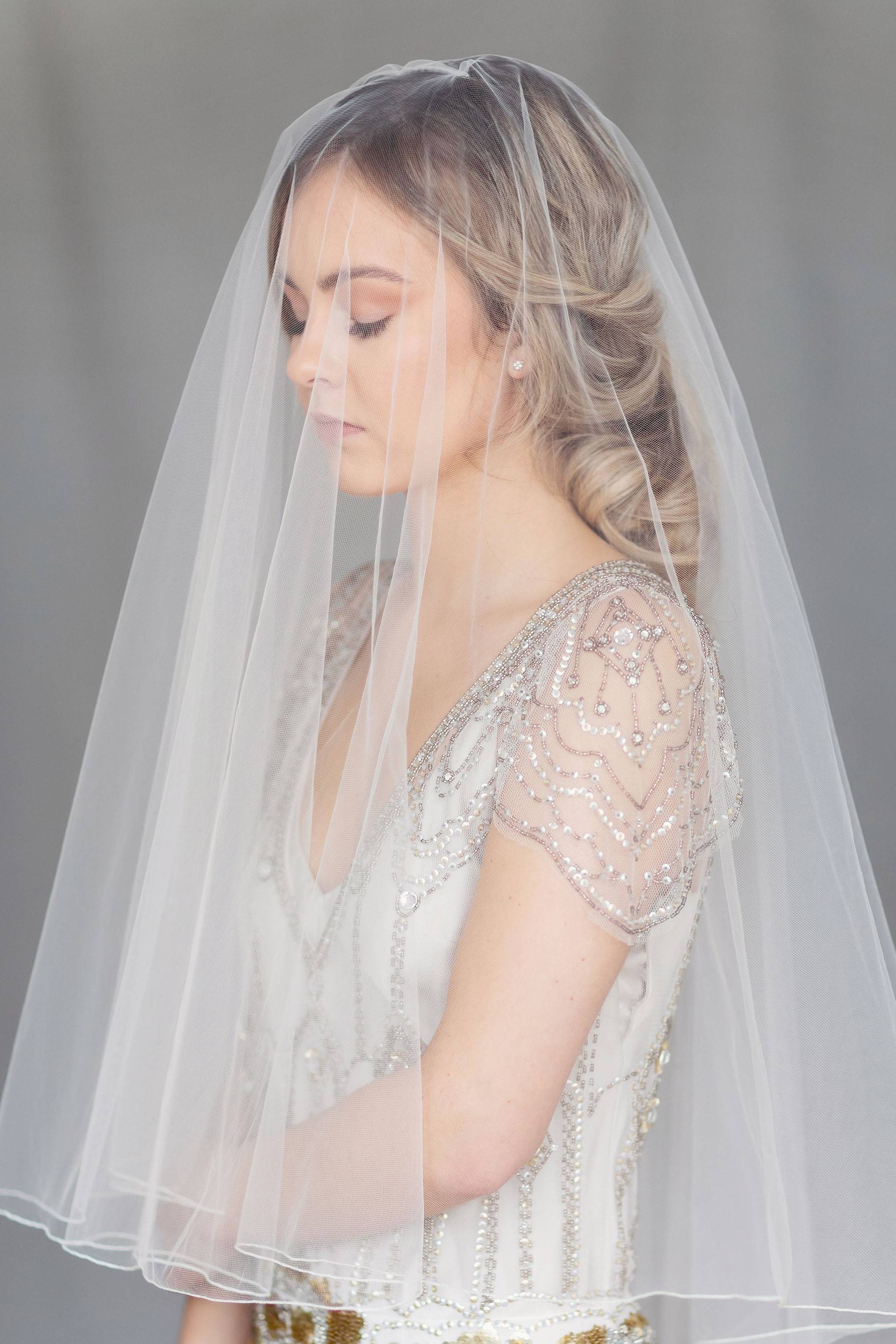 The Elbow length veil sits as it's name suggests, at the elbow of the bride.
As they only measure 76cm/30" long, they suit tea length wedding dresses beautifully as they tend to stop at the bottom of the bodice.
They are perfect for a beach wedding.
Lauren is seen wearing Penelope above.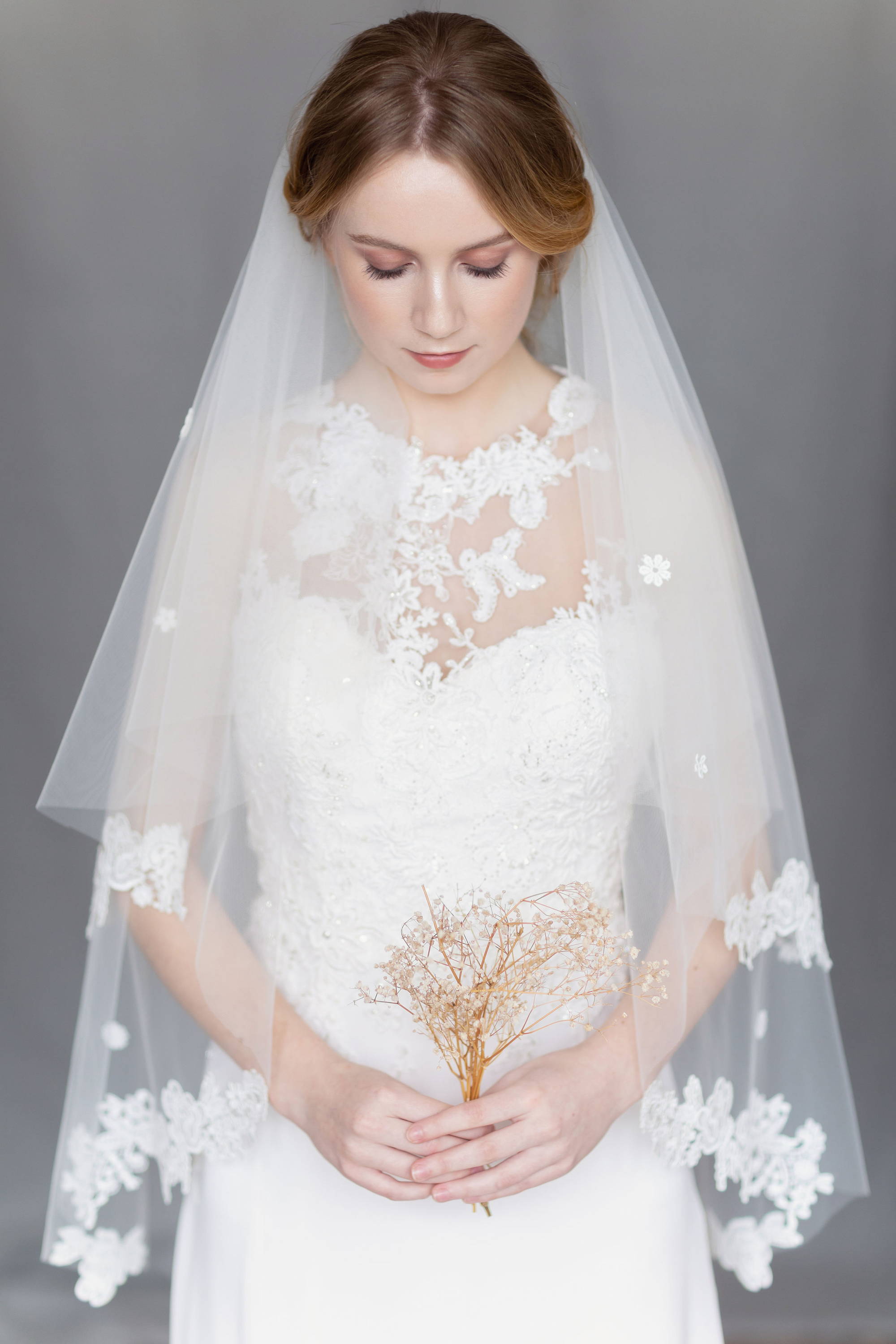 As implied, a fingertip veil traditionally finishes at or near the fingertips. Due to the different height of our brides, this may vary slightly.
Our Fingertip veils measure 132cm/52" from the comb to edge however can be made to measure. They are a fun, care-free accent to a bridal outfit.
Elise is seen wearing Winnie above.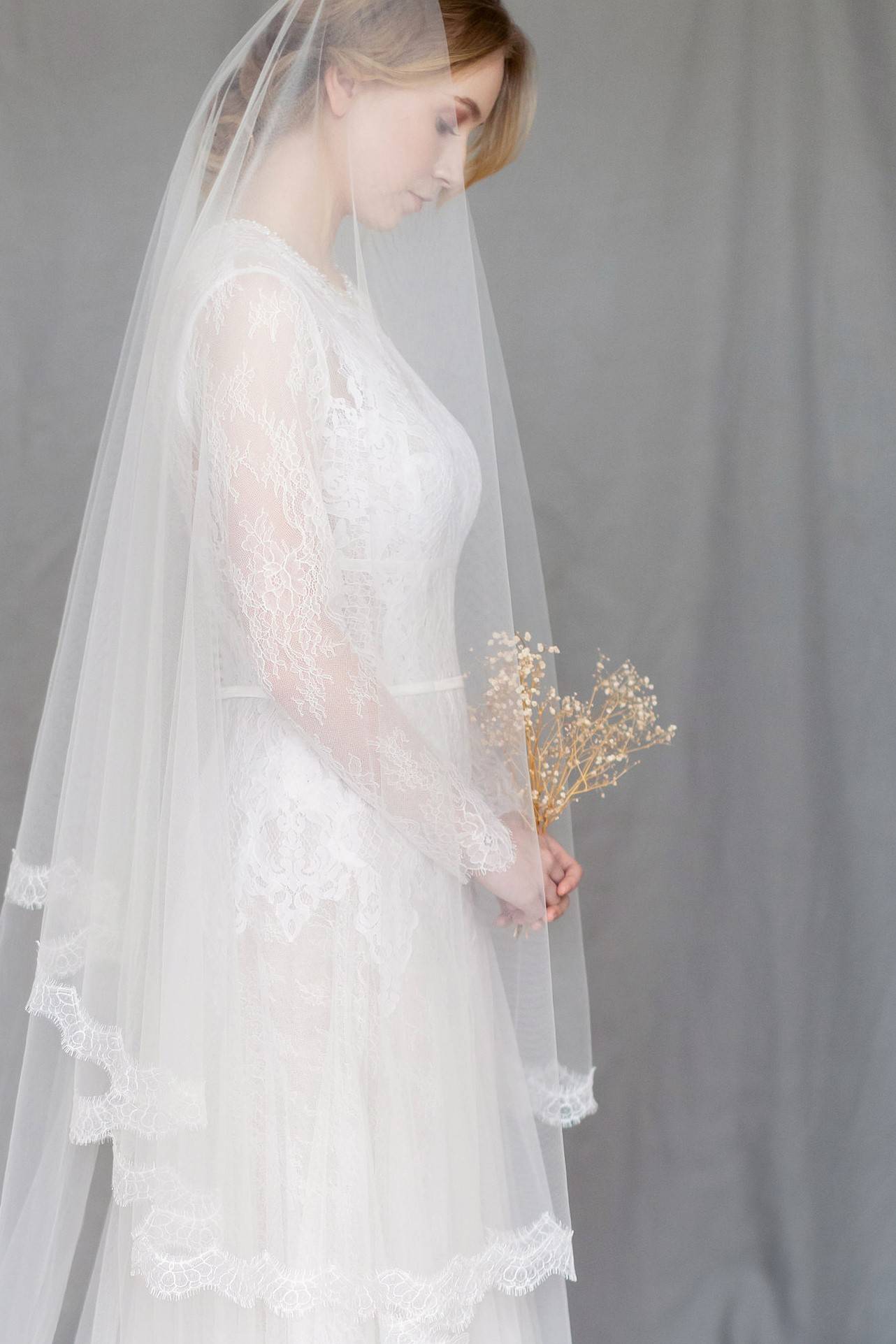 Ballet length veils tend to fall around the knees or mid-calf. Depending on the bride's height, where it falls may differ.
Our Ballet length veils measure 183cm/72"from comb to edge however can be made to measure. They are a perfect balance between a fingertip veil and a floor length veil.
Elise is seen wearing Grace above.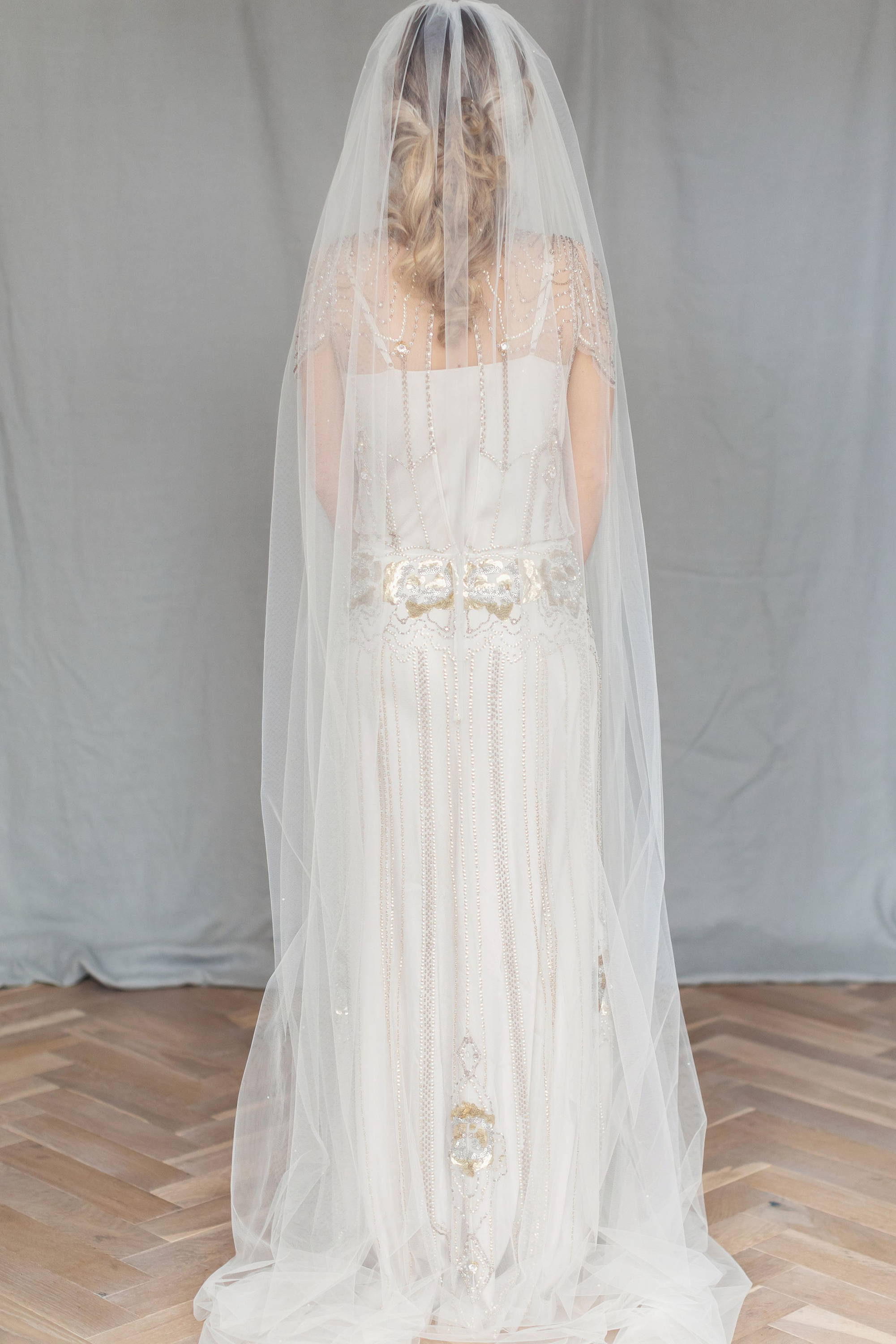 The Floor length veil is cut to rest on the floor and has a very petite train.
This allows it to move more freely compared to a Chapel or Cathedral length veil.
Our Floor length veils measure 205cm/80" however can be made to measure depending on your height.
Lauren is seen wearing Charlotte above.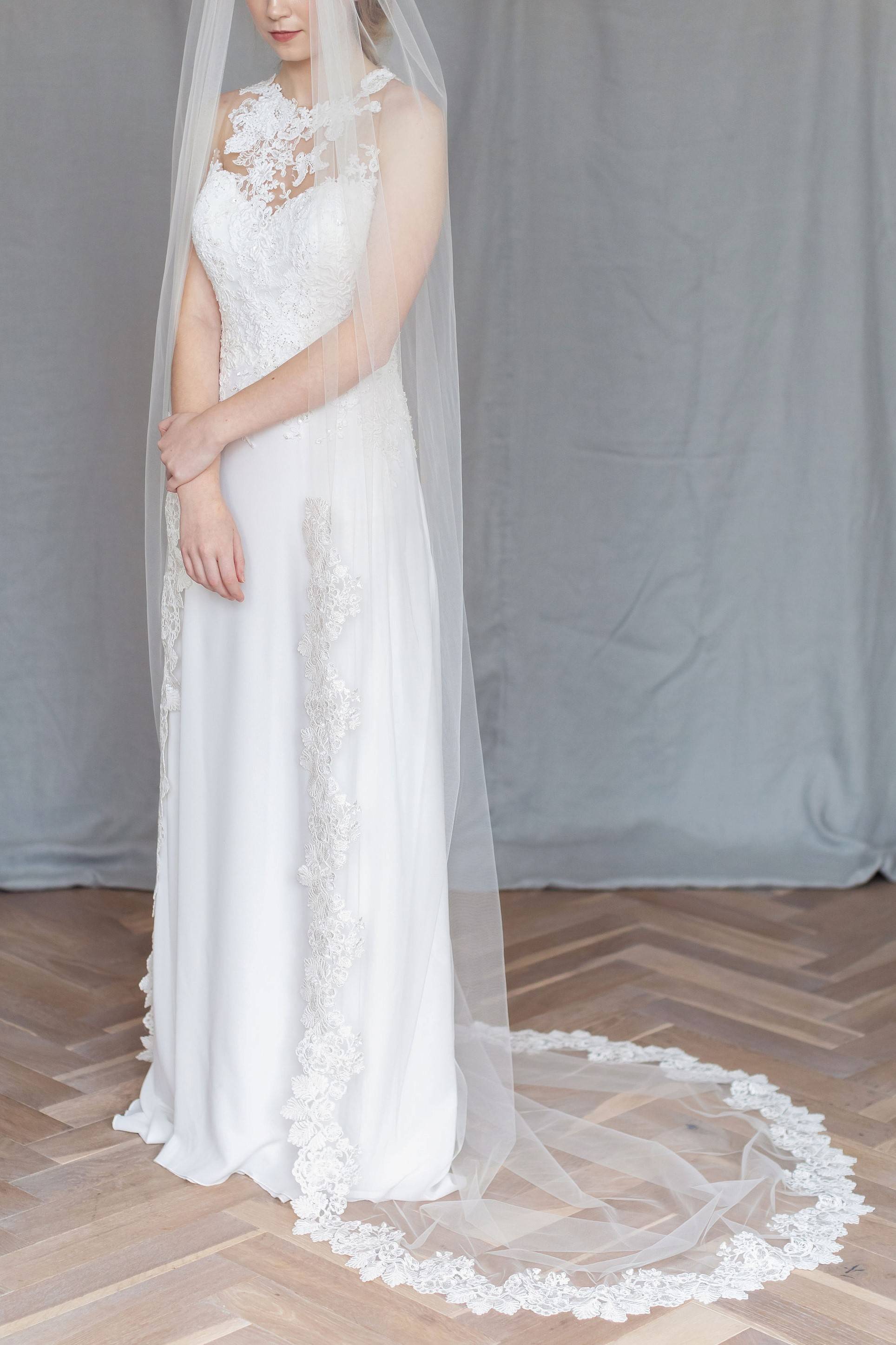 Chapel veils are our best selling length.
They tend to hug the train of most gowns and flow beautifully along the ground when walking down the aisle.
Our Chapel length veils measure 250cm/100" long.
Elise is seen wearing Fleur above.
The length of the Cathedral veil creates a superior level of regality and sophistication.
Our Cathedral length veils measure 300cm/120" and tend to surpass the train of all gowns.
Lauren is seen wearing the Olivia Cape above.
What Finishes Are Available?
Finished edge veils are edged with a fine line of ivory stitching.
This is once of our most simple but effective finishes.
An example of a Finished Edge veil is Penelope as seen below.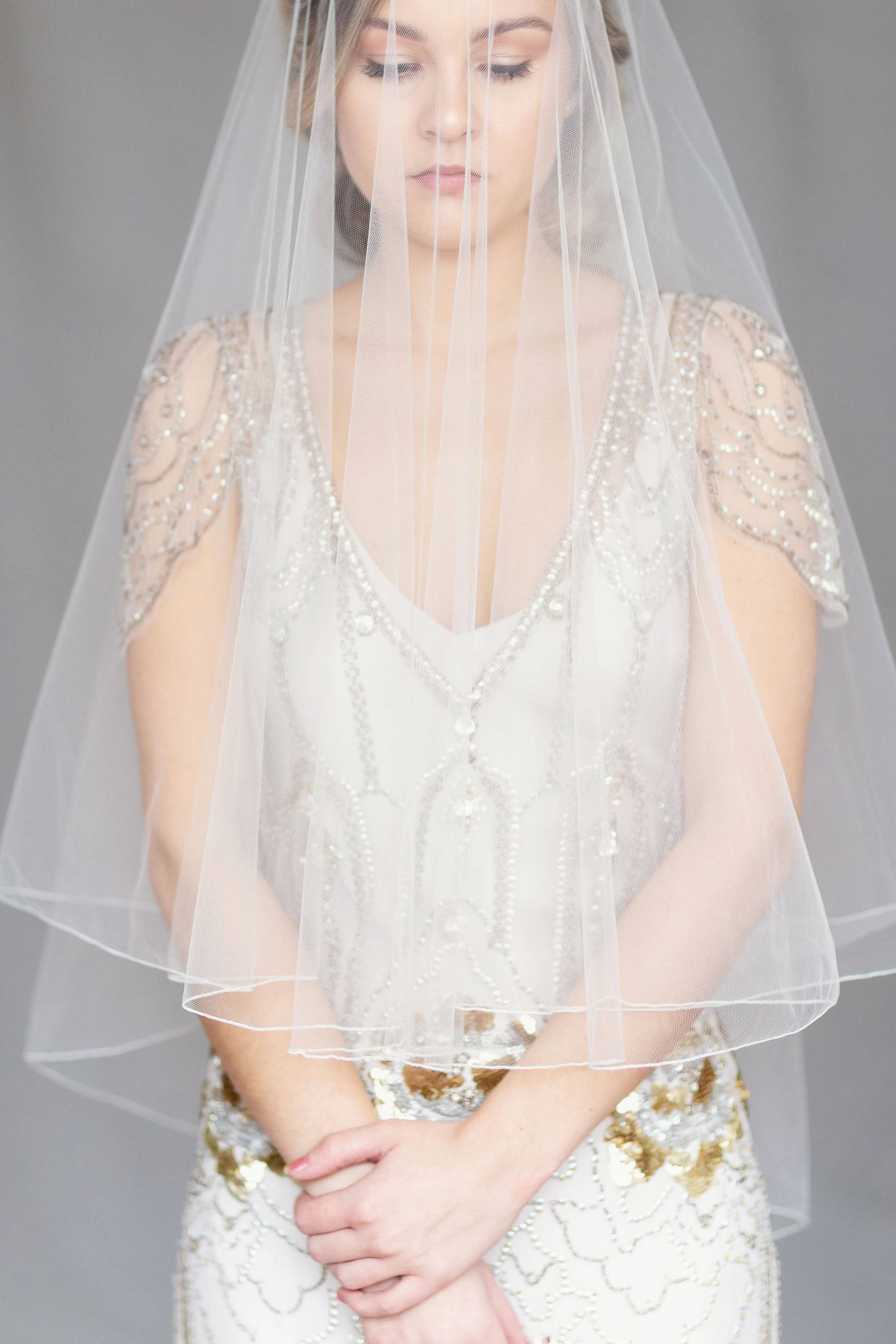 Semi Lace edge veils are a mixture of raw edge and lace edge.
We absolutely love this finish as it creates a 'cape-like' effect.
Elise is a perfect example of this.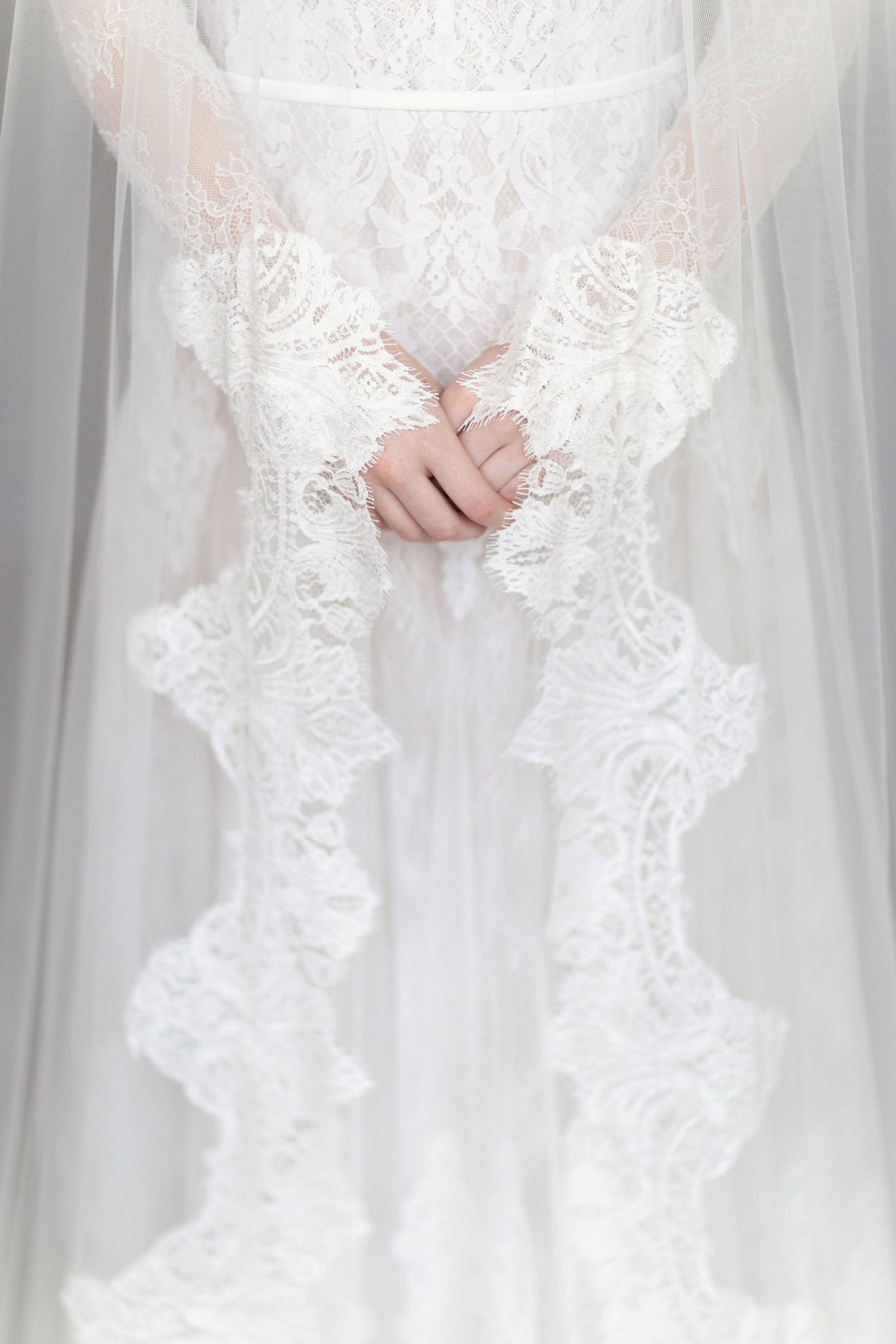 A Raw Edge veil is the most simple edge available.
This style of veil has no trim, lace or finish round the edging.
An example of one of our raw edge veils is the simple but luxurious Charlotte.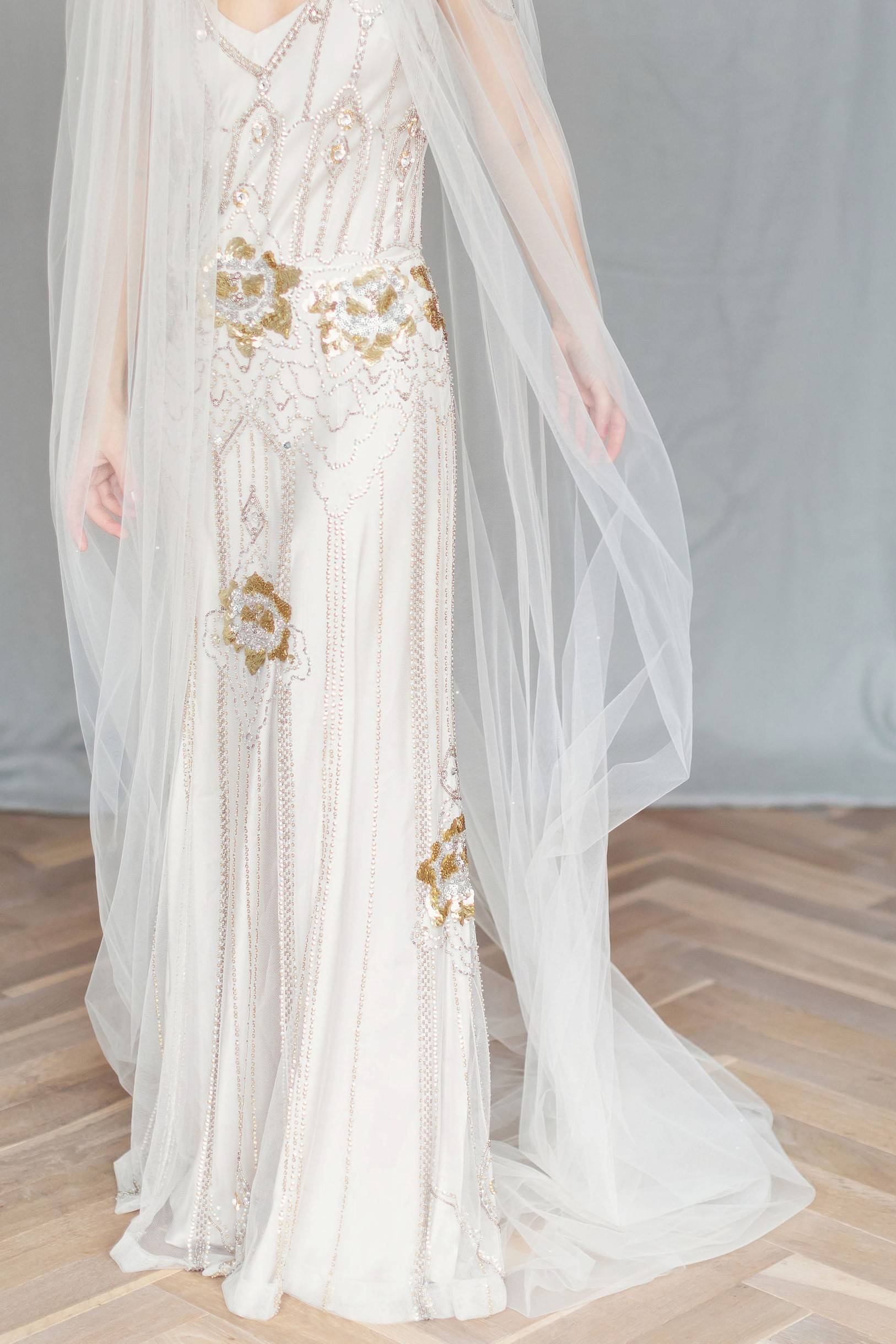 A Full Lace Edge veil has a lace trim from one side of the comb to the other.
A veil finished in this style is always romantic and eye-catching, perfect for the bride's big day.
A stunning example of a full lace edge veil is Arquette.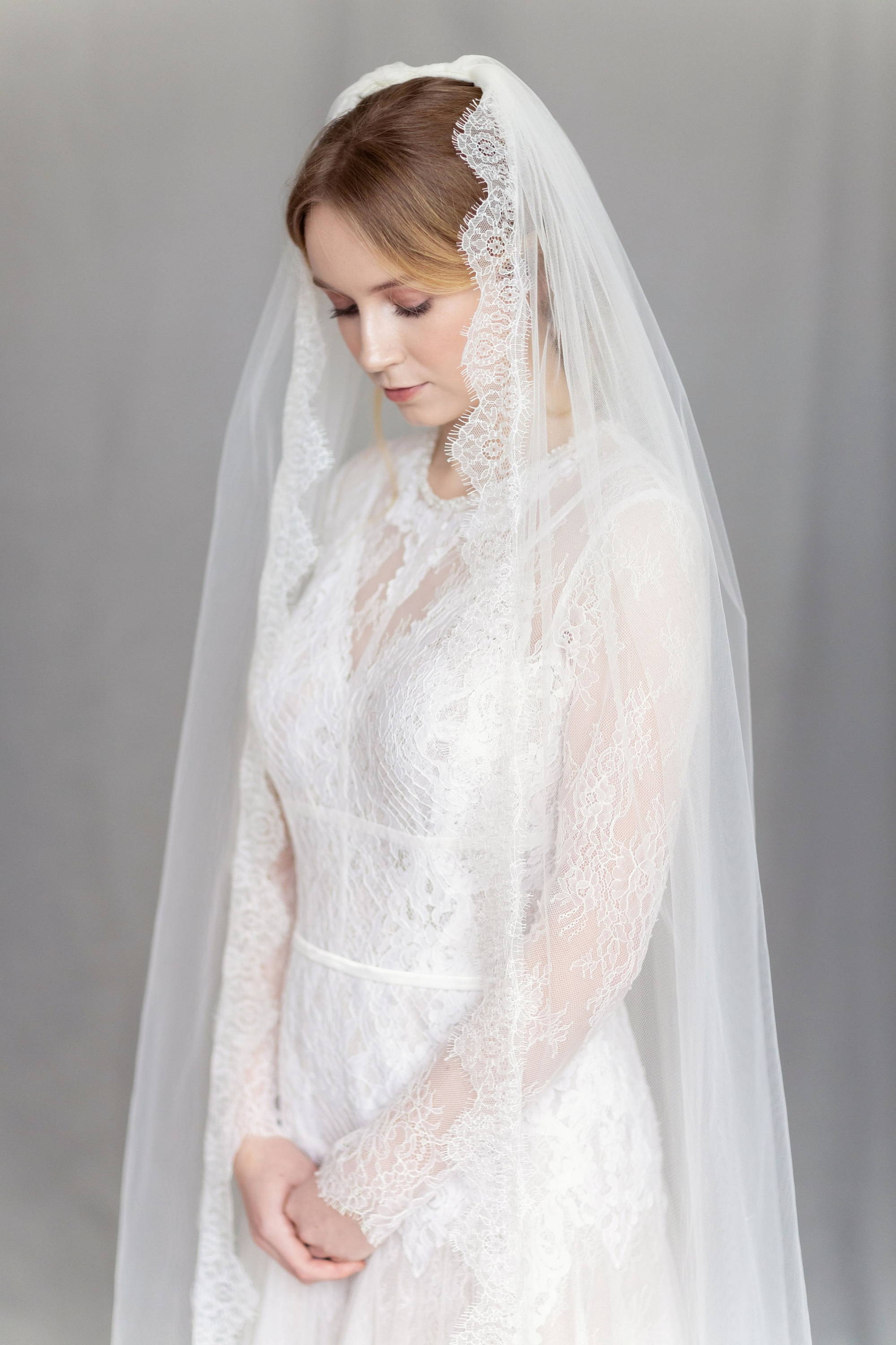 Veils with an Applique Edge tend to be Raw Edge with appliques placed evenly round the train edge.
They are gorgeous whether they surpass the train of the gown or melt into the skirt.
A perfect example of this is our Sophia Veil.